Discussion Starter
•
#1
•
I'm quickly working myself deeper and deeper into a rabbit hole with this - I need some help!
Situation - I went to have a tire repaired at Wal-Mart this morning and they said they couldn't do it after having it in their shop. They said the lug nuts were siezed and couldn't get them off with their impact wrench.
Some history - the last 2 times I had my tires rotated during service at the Ford garage they said they had a problem both times. About 1.5 years ago they had to replace 2 lug nuts after they were destroyed trying to remove them. Last time they said the tech broke 2 impact sockets trying to get them off.
What I have - when my 2009 F-150 was new, I had a set of wheels/tires from my previous truck that I used as a winter set. Since I can't swap them out myself anymore I have been running them all year for ~4 years now. They are 18" OEM Ford aluminum wheels from a 2003 or 2004 F-150 that I bought used.
When I bought these wheels I also bought a set of lug nuts to use with them - they were brand new OEM take-offs. They look like this: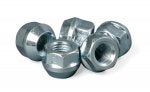 And here is a pic of my stock lug nut:
The reason I got the shorter non-chrome lug nuts is because these extra wheels have covers over the studs and figured the long chrome lug nuts would be too long.
So...what is happening is that the lug nuts are tightening themselves on the studs. I asked at the Ford garage each time about proper torque and they assured me that they do it correctly. Even so - 150 ft lbs of torque just seems excessive but that is what is called for.
After what happened today I had a thought. Maybe these lug nuts I bought (the short ones) are steel and I am having a reaction between the nuts and wheel becuase of being dissimilar metals. Is this possible?
I haven't compared the face of each lug nut closely yet - but that might be irrevelant if the face on the different wheels are different.
And my rabbit hole - the more I research the further I get into this. How can anyone who would buy aftermarket wheels know exactly what lug nuts were proper? Do they have different angles to the face for different wheels?
My options at this point - the tires are down to 6 & 7 32nd. I was planning on running them down to as close to 3/32 as I could. I was just going to leave them be and fill the tire every other week when I go to town. But if I end up with a flat on the road I am screwed.
I am 90% sure I can get the lug nuts off with my 4' breaker bar/pipe. Should I break them all free then put some anti-sieze on the faces? I have the feeling this is a no-no......