Discussion Starter
•
#1
•
I love the X590, but I never liked the seat. So I fixed it.
The problem was that it was tilted forward too much. It wasn't comfortable and I always felt like I was sliding down and out of the seat, especially going downhill. I'm not exactly small (230lbs), so this seemed like a very dumb seat design to me. I could kinda/sorta fix it by moving the springs all the way forward, but then the tractor became a pogo stick.
I went to visit my dealer to try different seats, but they were all the same. I mentioned cutting the springs in half to change the seat angle, and he suggested using the rubber springs from an E series tractor. We borrowed a set from a 1023E that was sitting on the lot, and it completely fixed the problem. Huge difference! Feels like a completely different machine. It's actually really comfortable now, despite the stiffer springs.
This is the difference in spring height:
This is the difference in the angle of the seat.
BEFORE: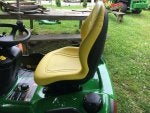 AFTER: