Ordered a 1/2" x 4" x 66" Cutter Bar to go on my Manure Forks I setup. Since the 2" Box Steel Forks are on 11" centers I am going to weld on the cutter bar across the7- Forks near the back. I will sharpen the cutter bar as sharp as I can before welding it on. I am hoping that the forks will keep the Sage between them and the sharp cutter will cut off the Sage Brush with the Tractor pushing it against the stumps under the heavy bush. We have enough of it around the place it will get used. Another $100.00 into this Manure Fork and it should also do another job. Should be able to lay the Forks flat on the ground and as I go along cut them off pretty flush and the Brush Hog will deal with the rest of it. I planed to also use these forks to find rocks before my Brush Hog does keeping it close to the ground in front of me and cutting off Heavy Brush as needed.
This is a picture of the forks with the harden tips I put on and picture a very sharp cutting welded to this on top of the7 forks and the cutting part between them. It did work great on the Manure Mat and a sharp edge would have helped more. I am hoping the sharp edge will work like a Chisel on the stumps and the forks keep it in the cutting slot?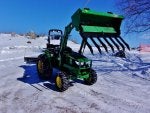 Having the Cutter Edge on the tops of the Forks should keep it out of the dirt and rocks dulling the edge faster.
This will be sharp when welded on the forks.