Discussion Starter
•
#1
•
My neighbor and I were planning on building 2 Grandfather clocks about 40 yrs ago. I'd provide most of the labor and lumber and he'd provide the mechanical parts. I started gathering lumber, cherry for his and black walnut for mine, and began processing some of the lumber into panels for the casework. He became seriously ill and could possibly have died. As a result of the situation, his wife decided to buy him an "Emperor" clock kit that were advertised frequently in magazines in that era. He regained his health (he'll be 91 this year) and built the grandfather clock from that kit (it's also still running).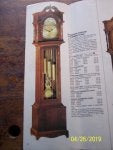 So recently I decided to resume working on this project. After finally finding the plans for the clock (as always, they were in the last place I looked), I recovered lumber from the barn that had been set aside and then stored for the clock case. I hadn't really done that much at that point to the walnut parts.
I was about 30 yrs old at that time and felt that the project could be done in my shop at that time without too many problems. My shop consisted of a Delta Unisaw, a Parks 12 inch planer, a wood lathe, a belt sander, router, 1/4 inch electric drill and a small amount of hand tools. I did also have access to other machinery and tools at work and at my Dad's, but not anywhere near the woodworking potential I have now. I guess I was still close enough to being a teenager that I still thought I knew everything!!
I've spent over 30 hrs. just reviewing the plans, rewriting the bill of materials, re-designing and drawing molding profiles to take advantage of the tooling I have access to, drawing full size patterns of parts that have curves (the plans did not have any full sized details; they are not plans for the inexperienced furniture builder).
I've also spent time making full sized patterns out of 1/4 inch plywood to aid in making jigs to shape the curved moldings for the gallery hood of the clock. Problems encountered during this phase were the need to purchase some shaper and router tooling to make some of the moldings and then finding out that my three hp shaper doesn't have a long enough spindle to handle the shaper cutter set-ups needed to make the hood gallery molding. I'll have to use the nephew's 5 hp shaper with a 5+ inch high spindle.
I turned the finial today and made the rosettes last week. These are the only parts that I have completely made so far.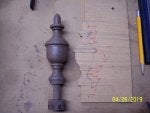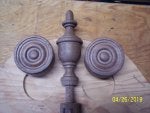 Stock for the hood columns has been sized and are ready to turn. The material for the hood gallery moldings have also been processed in preparation for shaping.
I've also found a company that specializes in providing replacement movements for this exact clock case. Many of the replacement movements for existing grandfather clocks have not changed in over 40 years and are better built and comparatively less expensive that when the clock was built because of improved technology and manufacturing processes.
My tentative completion date in December of this year (like everyone else, I have other things to do with my tractor).