Discussion Starter
·
#1
·
The following was sent so me by Bob, AKA
netsurf1
who was having trouble posting pictures-so he asked me to post this for him.
Disclaimer: KBOGH does not authorized or approve of this method, but it is an option if you have the technical ability to do it this way and fully understand the risk's involved. We still recommended welding hooks on if you have a heavy duty bucket that has the double-walled top section.
All text and pictures from this point forward is Bob's from emails he sent me:
~~~~~~~~~~~~~~~~~~~~~~~~~~~~~~~~~~~~~~~~~~~~~~~~~~~~~~~~~~~~~~~~~~~~~~~~~~~~~~~~~~~~~~~~~~~~~~~~~~~~~~~~~~~
I received my 2012 JD 3320 a couple of days ago.
I fabricated stainless steel spacers 30 mm long. These spacers keep the two metal plates from compressing toward each other when grab hook hardware is tightened.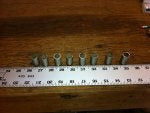 I purchased some of your grab hooks and shackle eyes. I have a 300CX loader with the heavy duty bucket (double thickness at top of bucket). I marked and drilled 1/2 inch diameter holes through both pieces of metal at the top of the bucket. I then increased each hole diameter in the top plate to 11/16 inch.
I installed the spacers. The spacer rests on the bottom plate. The top of the spacer is flush or even with the top of the top plate.
I then installed your grab hooks, shackle eyes, and backing plates. I used silicone RTV between all mating surfaces to prevent water from getting between the metal plates. I used 1/2 inch X 13 UNC 316 Stainless Bolts (3 inches long), belleville washers, flat washers, and nuts. Care must be taken to keep your drill perpendicular to the metal plates while drilling or use a magnetic base drill to insure you are keeping the drill straight.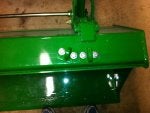 I would recommend your products to anyone looking for high quality grab hooks. Your service and speed of delivery were excellent, also. If my installation does not prove strong enough in the future, I can weld the grab hooks on, which is a nice feature of your grab hooks. I believe they would perform great welded or bolted to the loader bucket.