Discussion Starter
•
#1
•
Admittedly, not incredibly exciting but.... it was for me :laugh:
First time in awhile I actually read the instructions (don't tell anyone). I was sure wanting these hooks the other day when I was removing a stump. My wife wasn't happy about me dragging it either...
I took notice of some others, & in the included instructions to drill the holes first. So, that's what I did...
Using a C-clamp was helpful. I also dropped a bolt in after one side was drilled. My dewalt could've drilled these holes without the 1/4" pilot but, I will admit, I did use the pilot hole method. Was helpful to ease er through at the end of the drilling.
Well, Momma don't want no ugly tractor. So... paint was a must. I scuffed em up with a wire wheel, & primed em. Didn't take a huge time investment.
I used a can of the name brand JD paint. After the primer was set, I applied 2 coats of paint, with about 30 minutes between coats.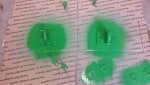 Once everything was good & dry, I applied some silicone around the holes. I applied it to the bottom plate of the hooks, & lightly skimmed the big washers on the underside. Unfortunately, the pics I took of this step, were blurry. In total I took 3 pics that I couldn't use. 1 of the silicone application, & 2 close ups of the finished product.
I think they turned out good. My youngest son came walking up as I was finishing up. He said, Wow.... looks like it came with those! I was happy as well.
Now, it's just waiting to put em in use..! Maybe tomorrow afternoon. Depends what time I get home from work. Supposed to be decent weather, & I still have 3 stumps whose days are numbered.
I have to say, I was really impressed with Ken's handling of my purchase. My hooks were shipped the same day I ordered em. Showed up lightning fast. Did I mention he refunded $5 on the shipping cost..?! Who does that..?! :thumbup1gif: Well packaged, detailed instructions, product exactly as advertised. Thanks Ken...!
I'm already contemplating my next order..lol. Thinking either a clevis mount in the middle, or a D-ring. Not sure which yet. Not to mention, I just know my buddy is gonna want an orange set :laugh: