Discussion Starter
•
#1
•
I want to add a pasture gate in one of my fences. The gate will be for people and horses, not vehicles. I would prefer not to move or add any fence posts, just to work with the current ones. I'd rather spend a few days fabricating in the shop to a few hours digging new post holes.
Unfortunately the opening is 6'11", too wide for a stock 6 foot gate, and too small for a stock 8 foot gate. So my choices are to add width to a 6 footer, or to cut down an 8 footer.
6 foot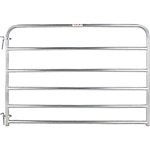 8 foot
Adding about 8 inches to a 6 footer would have the advantage of working on a gate without a center tube, and while cutting down an 8 footer and to get the center tube to remain in the middle would mean cutting pieces out of both sides.
The look of the end result is important because this gate will be about 20 feet away from our screened porch, where my wife spends a lot of time. That's mainly why I don't want to change the fence post spacing. Replacing the wife isn't an option, by the way.:laugh:
Any advice will be appreciated. I have a MIG welder and novice-level skills. No plasma cutter, but I do have a metal cutting bandsaw.