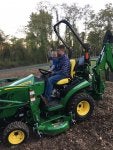 Hello everyone, I received my 1025R TLB just the other day and have been having a great time with it using it for a grand total of 7 hours of mowing, backhoe, and FEL work. Unfortunately, last night after taking off the FEL and backhoe I could not get the 3-point arms to move! (I wanted to try out removing the MMM which of course uses the 3-point).
My problem is that the 3-point lift arms will not move under control of the tractor either up or down, however I can easily move them by hand with very little resistance. Also, the mower adjustment height knob will NOT move with either the tractor on or off.
I've tried:
Re-connecting the power beyond hose 3 times in case if it was seating poorly (A little oil came out each time so it seems to be connecting)
Adjusting the drop rate knob under the seat through its full range of motion
Operating the engine at idle and high RPM
Inspecting linkages (appear fine to my untrained eye)
Moving the loader valve through its entire range of motion in case of any air in the hydraulic lines
Checking dipstick at rear of transmission (It was 1/2 way up the hash marks)
Looking for leaks - none found
Shifted through both gears in forward, reverse, and 4WD in an attempt to get fluid to move all throughout the tractor
Is there anything I'm missing? I've never used a machine like this before so please don't assume any prior knowledge on my part! I really don't want to have to lose the tractor for a week or two for something small to get warranty work done. Below should be a picture of the linkage that connects to the 3-Pt height lever/Position Control and another of the linkage that connects the MMM lift mechanical lift mechanism to the 3-point lift arm. Its hard to notice due to the poor picture, but that silver bolt is sliding through that silver bracket - Is that normal?