Discussion Starter
•
#1
•
Well, after 11 yrs and a lot of sole searching, I bought a new trailer on Fri and released the old gooseneck. It was a tough one as over the years, I had roughly $17k in the oldie with all of the mods and work that had been done. Here is a photo of it with the 2038R. Used trailers dont go for much these days just so you know.......
But after using the new Lamar manual tilt deck for the first time, it was all worth it for the ease of use. Lamar is 20ft with 16.5ft of manual tilt and 3.5 foot of fixed. Has 7k Dexter torsion axles for just under 10K of hauling weight with the trailer weighing in at just under 4k itself. No ramps, no hassles. Pulls and rides very nicely. Its amazing that it weighs almost the same and hauls almost the same but that new Lamar is a way better option for me as I am getting older and lazier....:laugh: It will need a few things, tool box and rhino liner on the rear deck plate/ramp(area behind front tractor wheels) as its very slick when wet but nothing else.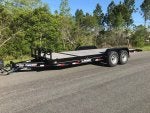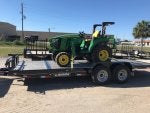 I really wanted this aluminum 20 ft full deck hydraulic tilt but at almost $11k, it was WAY too much $$$$. It was a sweet trailer though by H&H !! :bigthumb: I also looked at a full deck 20ft PJ Trailer hydraulic steel/wood but with how little I use it, these hydraulic would require more maintenance long term.