Discussion Starter
•
#1
•
We received our new 1025R last Friday, which meant I got to have some fun this weekend. This is all new to me. I've never owned a machine like this so there was a lot of discovery. I thought other potential buyers might like to hear my impressions (I know I would have liked to read something like this when I was kicking tires).
So here's the new addition: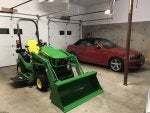 1025R with H-120 Front End Loader (FEL), 60" Mid Mount Mower Deck (MMM), Ballast Box and (not shown) 54" Snow Blower Attachment. The tractor arrived Friday night around 4:00 pm. We were having dinner guests, so that didn't leave a lot of time to play. I spent an hour playing, then put it where you see it there, next to the wife's car.
Saturday morning after some family duties (made breakfast for my son and is guests), I made my way down stairs to play. I decided to take the side cover off to explore the PTO switch. I had already ordered the LVA11189 switch and was wondering how hard or easy it would be to install it. The next thing I knew, the wife is saying, "What did you do...? We haven't had the thing one day and it's all apart..!" Uh yeah, one thing lead to another. Before I knew it, I had the thing in pieces. Side panels, steering wheel, center console, it was all out. That PTO switch is NOT easy to access, so I removed the whole panel. That gave me the opportunity to do a really nice job. I stripped the red and orange wires in the harness under the loom, soldered two wires, taped and replaced the loom. I made a nice new loomed harness to run to my switch. Now I'm sorry I didn't take any pictures. It came our really nice. Factory clean with only this visible.
Those with an observant eye will notice that while I had that panel off, I also added a 1 axis waterproof joystick switch below the turn signal switch. At this time it does nothing. It will later later be used to control the Chute Actuator on my Snow Blower attachment. More on this another time.
After my tampering, I decided to drop the FEL and Ballast Box to try the MMM. The grass was a little long, but probably done growing for the year. I'm coming from a 24 horsepower Cub Cadet riding lawn tractor. Right away I noticed that the 1025R feels like a luxury ride in comparison to the Cub Cadet. The suspension seat, the rock solid feel, the power steering and even the engine sound. The 1025 is like a tank. I think it's actually quieter than the gas powered v-twin Kohler in the CC, and it's all together different.
My property has many hills, which is good. I learned to negotiate them on the CC and I was worried that the higher heavier JD would feel less stable. It did not. In fact, I think it may feel more stable. I will need more time with it. I'm still learning what I can and can't get away with there and I will proceed with extreme caution. The first hill I climbed, up onto our front yard, the JD climbed effortlessly. I didn't need 4WD or differential lock. It did just find without. But... My mower deck, set to medium, completely scalped the lawn. It appears it hasn't been set up correctly. I moved it to the highest usable setting, and even there it scalped the grass in a few places. I'm not going to hold this against it. I realize it's part bad setup and part learning curve.
The next day, I saw my neighbor shoveling mulch into his wheel barrel. I went right over and offered my help. He had a good 3 cubic yards to move. This gave me a chance to play with the FEL.
Here are some of the lessons I learned in my first weekend:
This thing can climb and descend up and down some serious slopes with ease.
If you try to climb a hill in 2wd and you spin a tire, it's going to do some serious damage to the grass. Use 4wd when in doubt.
You can get away with wide turns in 4wd without turf damage, but tight turns, uh yeah... Not so good.
This machine will roll down hills even if you let off of the hydro stat pedals. Unlike my CC, the brake pedal is a necessity. This is especially true when in High Range. In Low Range, the brake is much less necessary.
The FEL control can be very sensitive. It's going to take time to get a feel for it. I suddenly have huge respect for machine operators who make it look so easy. I look forward to developing that skill.
The iMatch is a must have option. I've taken the Ballast Box off and on a bunch of times, and although it's not a huge pain in the neck, it's not simple. (I actually ordered my machine with an iMatch, it just hasn't come in yet and I told them to deliver the tractor without it. I can handle the install when it comes in.)
When I was researching, I saw a video touting the benefits of the "Polymer" hood against the metal hood of the competitors. I didn't pay any attention to it or place any value in it. Well, while shaking the bucket to drop some mulch out of the over full bucket, some mulch dropped back onto the hood. No big deal, but if I was moving gravel, that would have been a different story. I can now see the value in the plastic hood.
While shopping, I wondered if the Tilt Steering wheel on the R was really a big deal over the fixed wheel on the E. I test drove the E and it felt really good. But, I've come to learn that the tilt wheel is really very nice for clearing the way to get on and off the tractor.
Those are some of my first impressions and lessons. There is so much more to learn and I look forward to discovering more about the machine. My only big regret right now is that I bough it so late in the season. Summer is over and winter is coming... We will do most of our learning with the Snow Blower.
Here's a short shot of the wife taking her first ride on the new addition....