Discussion Starter
•
#1
•
I have a 1988 185-hydro lawn Tractor.
Note" I "inherited" this recently, and know nothing of it's past.
It started losing power going up-hill. I changed the differential fluid -no help.
I started working on the drive bely which seemed really loose.
In trying to get the drive belt tensioned properly, I noticed a bolt about a 3" long with sleeve sticking down next to the PTO clutch. It was loose in a slot it can move up and down in. There's a lock nut on the end. No pulley.See pic.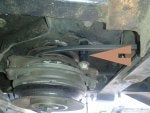 Now, this is ser.#509841. Full mod #is = M00185B509841 (So I fit into the 475,000-up serial number parts list.
The parts diagrams for 475k+ shows just a bolt with a spacer. So far so good, but am I supposed to slide this bolt along the slot and up against the belt and tighten it down?
Would it not have a high degree of friction?
Other pics in the manual show a pulley of some sort.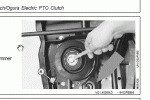 I believe this is for a different model though.
So do I accept the friction? Or am I missing something.
It's pouring rain so I can't just "try it and see".
So I thought while waiting I would get a second opinion.
Any suggestions?