Discussion Starter
•
#1
•
I inherited a 2305 this spring. Things have finally slowed down enough for me to actually make a post other than to lurk and ask a question here or there. Thanks to all for all of the things I have learned by reading and knowing how to use the search button!
My tractor was bone stock with a loader and mower deck on it when I got it. 8 hours on the meter. A current shot of it:
Since then I have added some hooks to the bucket. My goodness all buckets should come with some hooks on them! And what would they cost a manufacturer? gees.
Anyways, I decided to use the grossly overrated tow hooks from harbor freight. All about price. After test placing them on the bucket I decided it needed some additional backing. I dug through the steel pile and pulled out some 2 x 3 x 3/8 angle. Hey, I had it.
I borrowed a rear blade from a guy at work. I quickly thought I needed a quick hitch. Harbor junk to the rescue again. I first reworked the hook. Opened the inside up to about 1.25" and square. Then I drilled and tapped in the center of the mounting holes while adding a third. It helps being a machinist by trade! Last I took a clevis pin and cut to length. Then I drove a pointed bolt into it to hold in in place. The bottom was able to use the stock bolt since it was now approx. 2 holes lower. I plan on replacing the top round as soon as I remember to get a chunk from work. However this thin one seems to be working for now...
Next was a rear weight. figured that out the first time I attempted to lift something heavy. looked in the manual and read about the counterweights they required. Well I wasn't buying the jd weight box. I didn't want to weight the tires or fill them as I planned on mowing with it. We had this rim at work. It is from the steel mill, from a coil carrier vehicle. The rim has a wall thickness of about an inch. We made a new one from this bent sample. So i brought it home and dug through the steel pile again. Came up with some 10 inch c channel that was about the correct length, well close enough for me! I welded that on the bottom and a pc of i beam to catch the top hook and keep it from swinging. this was ok but soon realized that setting it down on soft ground caused it to sink and the pins were too low to re hook. so I found a chunk of reese hitch and a some 3 inch square tubing and welded that on the bottom. It seems to work great now. i have about 150 pounds extra inside it of misc metal and multi hitch. I like this one because it keeps the weight closer to the tractor so I can maneuver better out in the woods with it. It also takes less space to store.
About this time I picked up a rear blade of my own. Tractor supply 5 foot model. The first thing I noticed is that the tractor does not lift this implement too high
. I went scrounging at work and came up with some 3/4 x 3" stock. I drilled it and bolted it to where the pins should have been. I then moved the pins about 3.25 lower to match the second set of holes in the upper mount. Yes, I know it is only about 3 inches but %wise that is a lot. I plan on putting it through its paces this winter and then weld and paint in the spring if all goes well.
I also threw together this trailer mover out of stuff laying around, seems to work out good. I have a few more lil things planned for it before it is finished enough to make pretty. I liked the heavy hitch thread recently so it may get that treatment. I also want to add a pipe(or 2) for a tool holder to it. I'm hopping in the spring we have a load of parts at work going to the powder coater!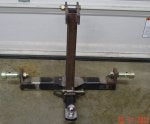 I also added some mirrors to my loader. That hole in the top seems to be made for them. These are truck blind spot ones from advance auto. About $9 each. Great for that quick look to the rear without turning around!
So, sorry for the rambling, and thanks for reading and all the inspiration here!
-Aaron