Discussion Starter
•
#1
•
Ok, had a little trouble getting the 1025r up onto the trailer deck the other day. It had been raining, trailer deck was wet, and the mud in our area is quite slippery - almost greasy. Result, three tries to get the tractor up onto the deck, and didn't feel secure in the seat parking and later unloading the trailer. Trailer is a 14-footer with a standard wooden deck like this...
I was at the home improvement store buying paint for the new house, and I saw this stuff from Rustoleum and after looking at the sample of the product, (you can get practically any color you wish) decided to give it a try - bought a special roller to go with it.
First mistake, using a plastic pouring lip on the can - this stuff is the consistency of cake batter or stucco - not at all like any paint you are used to! You practically spoon the stuff into the roller pan. It goes on THICK - and the roller works to add the texture. That works well, but the roller throws globs of that stuff EVERYWHERE! Wear a pair of pants and shoes you don't give a darn about - cause they're gonna get covered! It took a gallon and a half to give my trailer bed just one coat - gonna let it dry 48 hrs and then put down the second coat to get the final texture finish I want. You can see progress photos as I got on with the job.
With a little left in the pan - and there's no putting THIS toothpaste back in the tube! - I decided to add a no-slip coat to the surfaces of the ramps as well. This photo shows the texture of the finish pretty well, too.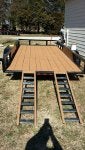 Final job looks pretty good - and the entire trailer deck is now a no-slip surface. This product is rated for both concrete and wood decks and fills cracks up to 1/4-inch according to the can, but you can see it didn't fill the gaps in the deck boards for my trailer. Maybe I didn't put it on thick enough, but the final surface seems a lot more satisfactory than it was before and should keep the rain and sun from beating up the surface of my trailer deck.
I've reprocessed the photo files with Picassa instead of taking them direct from my phone - hoping that they will be in the correct orientation now! :laugh: