Discussion Starter
·
#1
·
I wanted a tractor with front end loader and mower capabilities.
I've got a small lot (0.75 acre) with lots of obstructions, so I couldn't go too big. But I want to move a lot of dirt, so I wanted something with more guts more than a lawn tractor. The autoconnect feature of the mower is important to me. I swap between FEL and mower at least once a week. I'm too old to be crawling under tractors to connect PTO shafts.
I picked up my new tractor with mower and FEL at the dealer, trailered it home and started doing stuff the dealer showed me without reading the manuals.
I posted to another tractor forum and got chastised for not having a ballast box with the FEL.
Nobody told me about ballast boxes when I bought the tractor, and the place where I buy my dirt loads my trailer with their tractor with no ballast box. I see in the owner's manual that John Deere recommends 600 pounds ballast behind the rear axle.
Problem #1 is that I would be doing a wheelie going up the incline like in the photo below.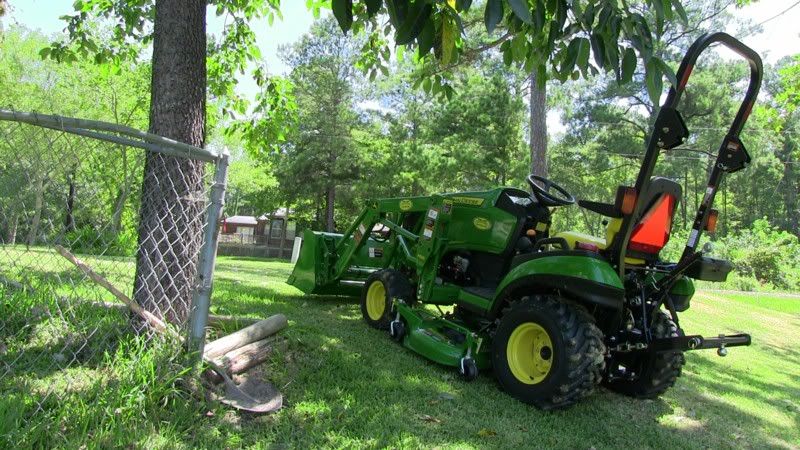 Problem #2 is that with such a small lot, I don't have clearance for a ballast box. For instance, the photo below.
I did ballast the rear tires by filling them 85% with water. That doesn't change the clearance dimensions on the basic tractor.
I have checked the stability of the tractor (front to back tipping) with a full bucket of dirt, and there is no problem, as in the photo below.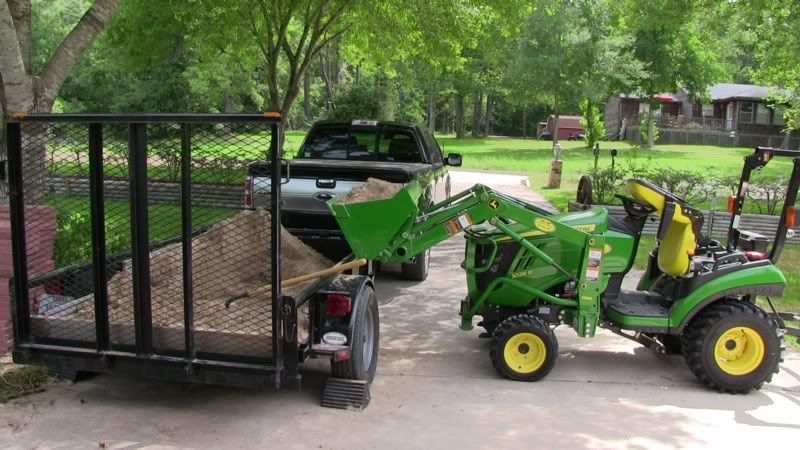 I check each load carefully and go slow and keep the bucket low, adjusting for the change in slope as required.
I have noticed more wear on the front tires than on the rear tires, but that is to be expected with 4WD and a smaller front tire.