Discussion Starter
•
#1
•
The other day I mentioned in a post that that I created a sub-soiler from stuff I had laying around. I didn't feel like purchasing a category 1 Subsoiler since I'll only use it a couple of times a year.
I created this out of the necessity when tiling the garden. Where I live in Iowa, the soil is tremendously productive (200+ bushel/acre corn), but oddly enough, if not tilled, it compacts together rock hard. When tilling the garden in the spring and fall, with out pre-breaking the soil, it would take maybe 8 to 10 passes to get the soil broke up. I rip the soil as deep as it will go in lines about 12" apart, some times I'll even make a checkerboard if I feel seat deprived. After ripping a couple of passes with the tiller and it's good to go. The sub-soiler goes in the ground about 8 inches, plenty deep to fracture the soil I'll be working with. In the fall it's really easy to till in the left over organic matter, grass clippings, leaves, etc.
The parts list:
King Kutter trailer mover
ball mount hitch (3/4" rise, 2" drop)
a ripper tooth borrowed from the box blade
3 3/4" bolts with lock washers and nuts
12? 3/4" flat washers for shims
​
I started by turning the ball mount 90* and drilled a hole through the receiver tube portion. The ball mount hole is shimmed down to 3/4" to which the box blade ripper is bolted, then a piece of scrap iron runs from the bolt holding the ball mount in the receiver tube to a hole in the ripper shank (holes are drilled to keep the shank roughly 90* to the ball mount hitch). All bolts are 3/4" grade 8 with lock washers. The off-set of the hitch keeps the shank almost inline with the receiver hitch, or close enough that it doesn't bother pulling to the side. We don't have rocks to speak of, and I NEVER run this much past idle so breakaway and shear bolts are not a concern. It's plenty strong to stop the tractor dead in its tracks.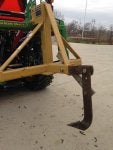 (complete with soil worms from the grooved tires)
This side shows the connections, I shimmed with washers the places where there was an interference or offset. Yes I should paint it, and trim the extra material but at the time, it was just an idea that happen to work well for its few uses a year, maybe a winter project. I've toyed with the idea of adding a couple more rippers to the sides, but haven't given that much real thought, it would be pretty easy to do tough.
Nothing fancy, but it works for me and it takes only a couple of minutes to move the ripper between the sub-soiler an box blade. :thumbup1gif: