·
Chief Stick-picker-upper
Discussion Starter
•
#1
•
I've been wanting to try striping my front lawn for a while. Yesterday, in the oppressive heat and humidity, I quickly fabricated a striping attachment for my Z445.
To start, I used a section of Stall-Mat. I determined the depth needed was to be 9". The mat was 4' wide, so it worked out well to cover the rear wheels width.
I used a section of 1-1/2" x 1/4" angle for the mount and a section of 1/4" flat-bar as a backing plate.
After cutting the sections to length, I drilled holes for mounting.
Below is the assembly.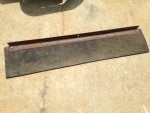 Mounted to the hitch.
A side view.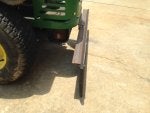 The striping angle bar is attached to a home-build hitch. It easily installed and removed with a 1/2" bolt, 2-washers, 1-lock washer and a nut. It's very sturdy, as the angle iron is butted tightly against the hitch plate.
According to my measurements, the bottom of the mat was to just clear a hard surface. This will prevent premature wear of the mat by not making continues contact with a hard surfaces. Once on the lawn, it should apply light pressure to the grass blades, laying them forward. When on my driveway, the mat has 3/8" of clearance to the surface.
I'll test it next time the lawn needs mowing, which shouldn't be to long of a wait because of the everyday rain showers we're getting.
If all works out well, I'll disassemble it for prepping and paint. I'll update this thread with the results.