Discussion Starter
·
#1
·
As most know, or will soon find out R4 tires are really slippery in the snow, ice and wet clay/mud. While they "look" like they would have great traction, fact is the hard rubber compound and large flat lugs make them super-slicks at times. Surprisingly enough, R3 or AKA "Turf Tires" have fabulous traction, one reason being the extra "biting edges" from all the additional sipes/grooves, another is the snow that packs into the small grooves will actually "stick" to the snow on the ground to also provide traction.
Siping is not a new thing, dirt racers, ice racers, rock crawlers, vehicles that travel in sever terrain (like Alaska and those that live in the snow belt) have benefited for years using this technique, so why not tractors? Here are a few good reads on the subject:
Tire Siping | Siping Tires | Siping a Tire | Discount Tire
Siping (rubber) - Wikipedia, the free encyclopedia
Tire Siping: What the Heck is a Sipe?
Yes, the first question to come to mind is "Why not chains?" Well, I have some 2-link heavy duty ladder chains, But of course they are heavy, hard to install, can mark up asphalt and concrete, and expensive if you don't have them already. For those reasons I tend not to install them and just deal with the sliding around, especially on my neighbors hilly driveway that I maintain every year-I've slid down it sideways more than a few times!
This is not a decision I came to quickly, I've followed a LONG thread on
TBN
since early 2011 on the subject and all those that have done this are surprised at the improved difference it makes. All the concerns of tire damage, tire chunking or other such catastrophic failures are all debunked in that thread, and many others like it-not just on tractor forums.
So onto the good stuff:
First,after jacking up the tractor slightly, I marked 3/4" from the outside edge of each lug:
Then, after the iron is good and hot, I just started at the center point of each lug, then when I got near the mark I started to lift it out. Everything was done freehand, it is just not that critical. Here are few to start:
Right Rear completed: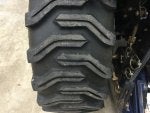 For the fronts, I added and additional sipe/groove around the tire in the center to help provide a little more lateral traction: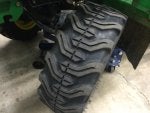 Side views:
Here are the tailings:
And finally, the Ideal Heated Knife I used, it comes with a #4 head and 12 rounded blades that's perfect for sCUT's and CUT's. I used a depth of 1/4" for everything. I bought mine from Amazon ($72.00), but other places sell it also, just search for "Ideal tire groover" for lots of choices.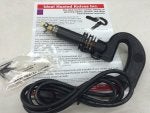 Hints for success:
1) Have a helper to hold the tire from turning, or step on the brake while cutting.
2) Get the tires warm as possible. While the heated knife does cut well, it does take a fair amount of effort to push it through the rubber, if it was cold it would only be harder.
3) Have ventilation-the burning rubber really starts to stink after a while.
4) Wear gloves and BE CAREFUL! The iron gets
super hot
and much of it is exposed, I almost grabbed the barrel a few times by accident but caught myself luckily.