·
Senior GTT Super Slacker
Discussion Starter
•
#1
•
I figured I had better start a thread. As posted in another thread along with new work.
Last week my wife made a new garden where we had one years ago. She used the walk behind rototiller then removed the sod from the area. She used some scrap 2x6's to make raised beds and put down weed control fabric. I (yes me) had 10 tons of topsoil delivered this morning to use in the raise beds. Topsoil was about 100 yards from work area so she used the tractor with FEL to fill the boxes.
I didn't even get to supervise I was at work.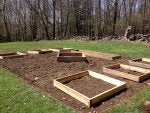 Wife had some mulch delivered yesterday while I was at work.
Now isn't that special, 8 yards!
Done and a lot of mulch left over, :lol: Guess she will have some for her rock garden and...................................