Discussion Starter
•
#1
•
Some days, it just makes sense to stay inside where it's warm, and get some stuff done in the Kitchen.
I decided that after snow blowing the MIL's drive Sunday afternoon, dealing with her stupid as a post and constantly yapping Ratdogs, and a grumpy sneer as thanks, Today was that day.
Started with 6 cloves of Minced Garlic sauteed in EVOO, While Browning 1/2 lb Sausage in another Pan.
Then Deglazing the pan with 1 cup of Pinot, and adding a Medium sized bunch of Rapini.
Vampires, and stray pathogens don't last long around here...Garlic goes into everything but Breakfast Cereal.:fed:
While the Rapini cooked down, the Sausage got drained, and chopped in the Mini-processor to a fine texture, and tossed in a mixing bowl with approx 1 cup of Grated 24 Month Asiago.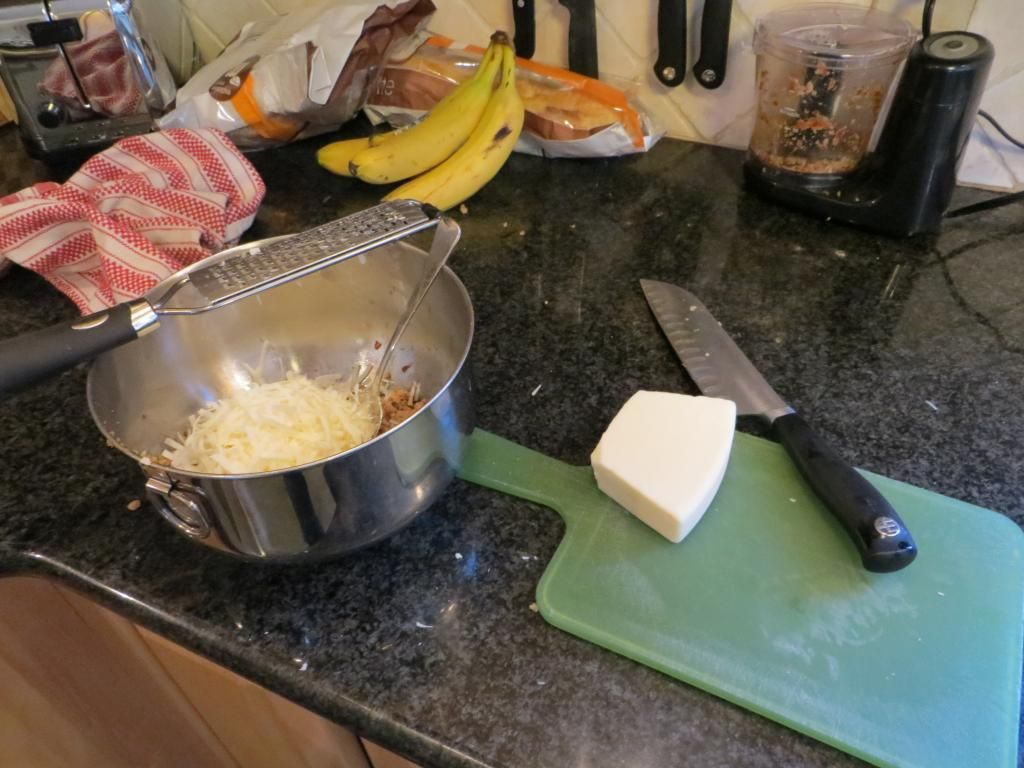 Once the Rapini gets nice and tender(Stems firm but not mushy)and Pinot has reduced enough that the pan appears dry,
Set aside 1/2 to drain, Press dry in a kitchen towel, then chop fine and add to the Sausage and cheese.
At that point, toss in a heavy three finger pinch of fresh(Frozen and shattered works too!) chopped Basil, The finger pinch of chopped Parsley, and a pinch of oregano, and add 2 Beaten eggs.
Taste, and adjust salt at this point....yeah, yeah, yea....raw egg...call the Egg Police on me.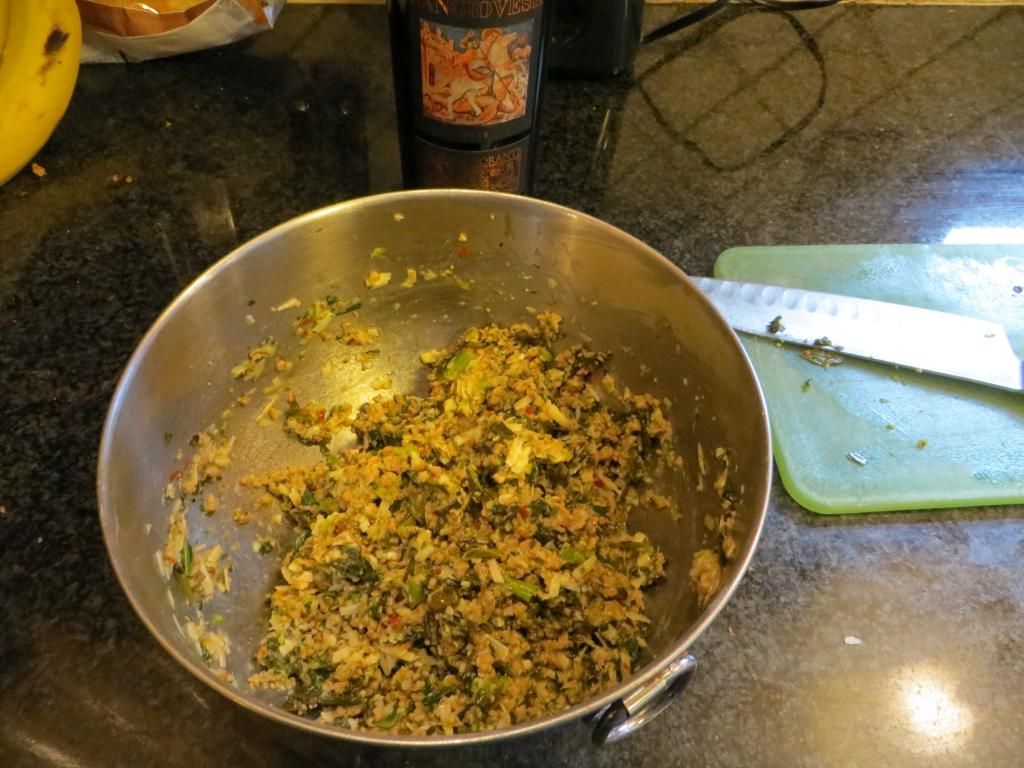 Spoon the mix into a 1 Gallon Ziplock and toss in the fridge to firm up. Leave an air gap in a corner, as you'll be snipping it off later for squeezing onto the Pasta.
For pasta I like to run 1/3 Semolina and 2/3 AP. 1 Cup of Semolina, 2 cups of AP, stirred in the bowl until blended and then sifted twice.
It makes for a firmer Pasta with a higher Protein content, and still elastic enough to deal with getting stretched on the Ravioli press.
I don't do Pasta machines or mixers. I can't get the feel for them, and Pasta dough is different every day you make it.
3 cups of Flour needs 5 Eggs at room temp, and about a Tbsp of EVOO..and just a half pinch of salt.
I use the "Pollo Beccare" method. Pecking with the thumb and fingers, lifting a couple inches and dropping the egg back into the "Volcano", busting up the yolks, and drawing flour into the egg, until a slurry forms, and then pecking and swirling until the dough forms...then working the dough until relaxed but firm and tucked into a ball. The Ball is then put in a plastic bag for 30min. to even out at room temp.
It should look something like this. 90% worked, resting, and moisture evening out in the dough.
While resting...it Sauce time.
I like a good Sage and Garlic butter/cream sauce.
Straight Pino Griggio or Orvieto Classico and Butter works too, but I like the garlic and sage for contrast.
1/2 stick of butter melted with 3 Tbsp of crushed or chopped Garlic.
Sautee until garlic starts to brown, and the smell is intense.
Add 3-4 leaves of Sage..the big leaves, some are small so use your judgement and sneak up on it, as Sage can go from weak to overpowering with just a smidge.
Add 1 cup of Pinot, 1/2 cup of cream, and simmer while stirring constantly while the wine is reduced, then set aside to cool.
(Enjoy a glass of Pinot while stirring to pass the time.)
From there it's all about running the dough through the Atlas to #6 or #7 setting, and stuffing the pasta dough, and sprinkling the Ravioli with a dusting of Semolina to keep them from sticking to each other, while the waiter comes to a boil.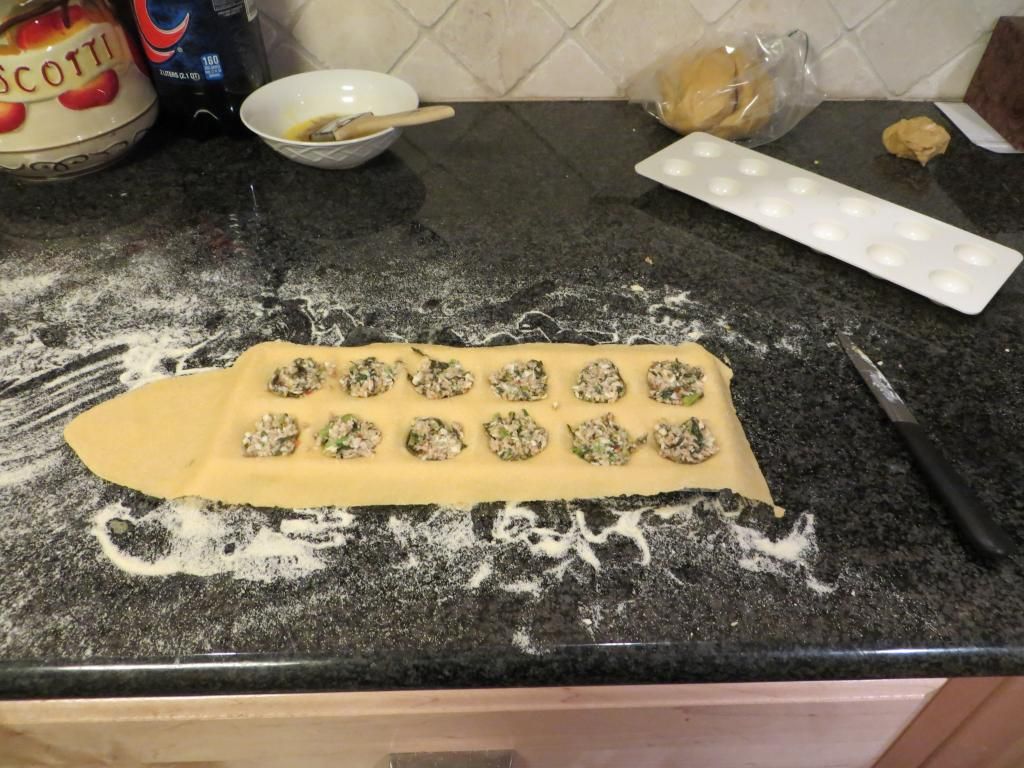 5Min. in the hot tub, and it's time.
They will float fast, but go 5-6 Min.
Plate Ravioli on top of the reserved Rapini, spoon on 4-5 serving spoons of sauce, with a few good shaves of GOOD Imported Parmigiana Reggiano.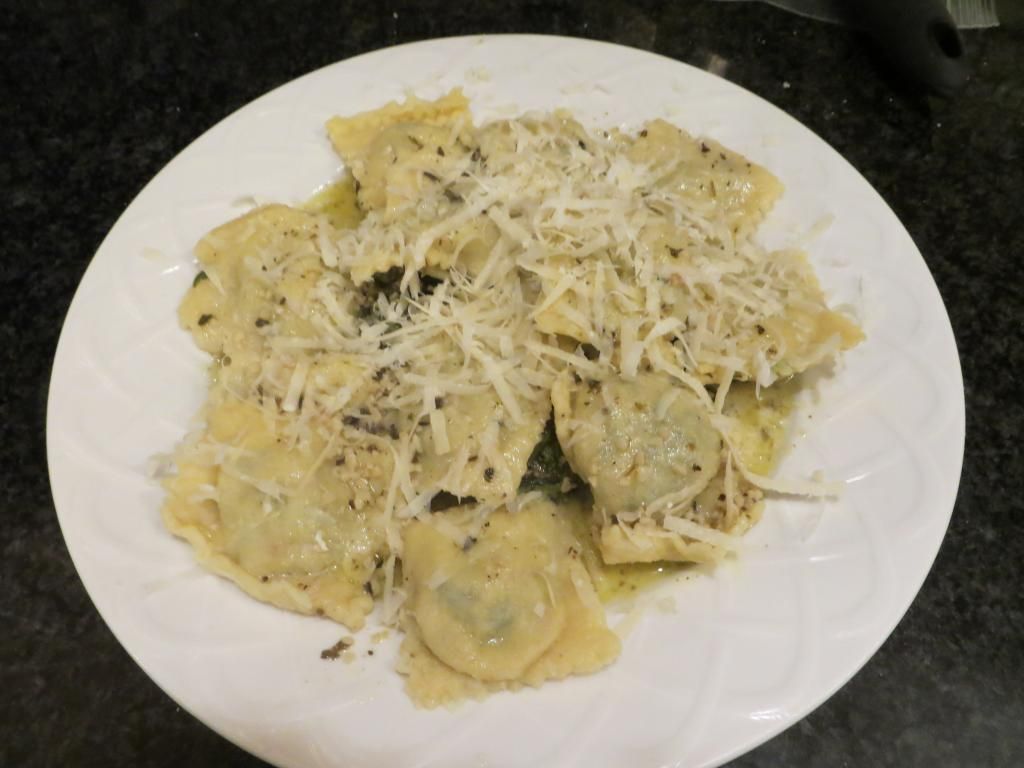 THEN top it all with a sprinkle of fresh Arugala, and a light drizzle of your best quality( We like Partana Sicilian single batch) Olive oil,
and serve with a good salad.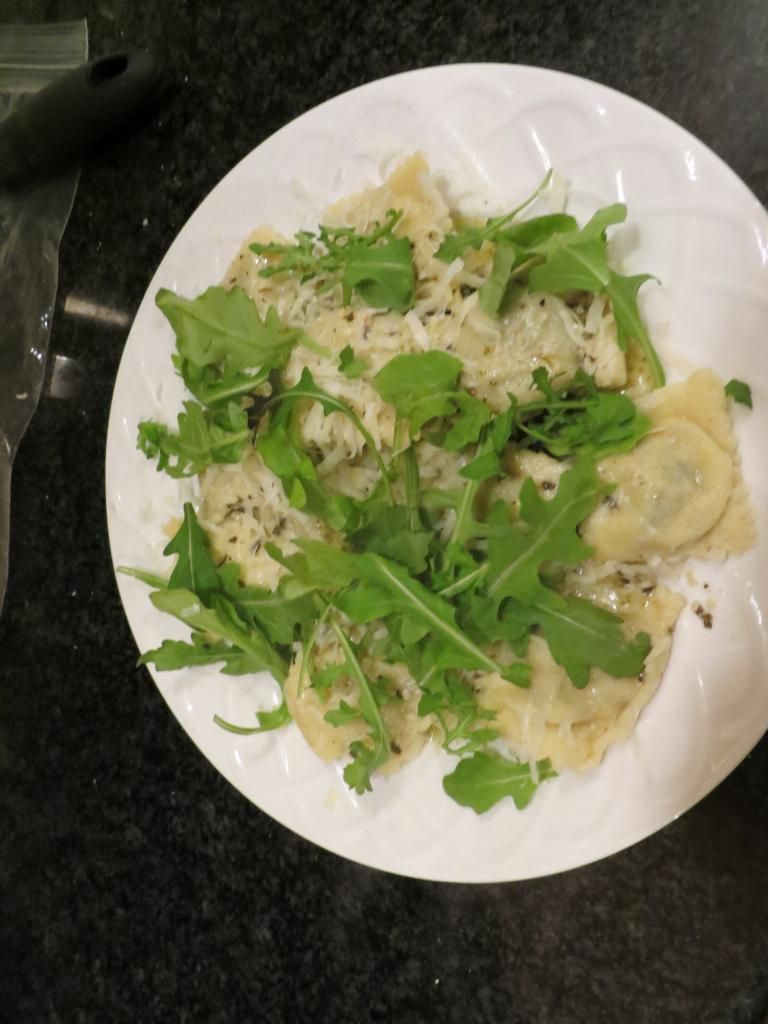 Buon appetito!!!!!!!!!