As you all are starting to piece together I cannot leave anything alone. I KNOW I can always make it better. Well, this time it is my SS2036B spreader.
Let's start at the beginning. First up, it is not quick hitch compatible. Needless to say it did take me a couple of times to get this right. What I did was made custom lower pins that just slide on. This solved the problems of too small and too short. Then I added some clamp collars to control the side to side position.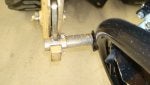 Then I cut of the upper mount (the second time).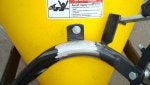 these are the short ones that cut off to make the longer ones. The short was just too short for mounting. Once mounted they worked fine but, just need more clearance.
Forgot to mention it was a tight fit, but it all worked.
Anyway you get the idea. Let's start there first. I have more to come on the custom made spreader disc that throws the contents (plastic one didn't last) and a remote control gate arrangement.