I've been chasing a couple of small issues on my 2001 F-350, and put together a kit to test the fuel pressure. I know we have a few other 7.3 owners here, so I figured I would share the process. You can buy fuel pressure test kits for these trucks, but the ones I found were over $100 and you can assemble one yourself for less than half of that.
Low fuel pressure can cause a number of issues, including low power and early injector failure. If your fuel pressure is less than roughly 35 PSI under load, the injectors do not receive adequate lubrication and can develop issues. Likewise, if pressure into the injectors is too low, you won't be delivering as much fuel into the combustion chamber as you should and the truck will feel weak. Ideally you want to be within 10 PSI of 60 at idle. Anywhere from 50-70 PSI at idle is pretty normal. Under load, which is accelerating, wide open throttle, etc you should see at least 35. If it's low there can be a few different causes, but for now we'll just focus on testing it. The process is the same for the 94-97 PowerStroke trucks, but the fuel bowl fittings will be different. There are a lot of different fitting/ hose combinations that can be used to do what we're doing, this is just what I did for a temporary test setup.
The fitting that threads into the Super Duty bowl is a #4 O-ring boss. I used a #4 o-ring to #4 JIC adapter, followed by a 90* JIC elbow into a JIC hose barb. I ran 48" of diesel rated fuel line to a 1/8" NPT hose barb, which was threaded onto a 0-100 PSI liquid filled gauge temporarily attached (aka, zip tied :lol
to the cowl. The fuel system is fairly low pressure at this point, so barb fittings and hose clamps will work. Some folks have installed fuel pressure gauges in the cab as a permanent fixture, but with my stock truck that's unnecessary. If I were doing a permanent install, I would mount the gauge where I wanted it in the cab, then measure and have a custom hose made with crimped ends to go from #4 o-ring to whatever fitting was on the gauge I used. Regardless of how you go from fuel bowl to gauge, this is the basic process.
First, the fuel bowl. This is where your fuel filter is. It might have a stupid black, plastic cover over it with a little hinged lid. Take that dumb thing off and put it on a shelf, all it ever does is get in the way. :laugh::laugh: You should see the fuel filter bowl in the center of the valley, behind the HPOP.
On the back (firewall side) left of the fuel filter bowl is a yellow lever to drain the bowl. Flip it backwards and drain the bowl. On the back right (driver's side) of the bowl is a plug.
Remove that plug. It takes a 3/16" allen wrench.
Install your o-ring fitting here.
From your o-ring fitting, attach the rest of your hose/ adapters. Don't use thread sealant on o-ring or JIC fittings, do use it on NPT fittings.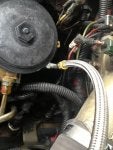 Check for leaks before you close the hood. Make sure the fuel bowl drain is closed, then turn the key on and let the fuel pump run. The pump will shut off in about 30 seconds, and you may have to turn the key off and back on for the bowl to completely refill and pressure to show on the gauge or a leak in your new system to start. Once pressure shows on the gauge, you can start the truck.
I ran my gauge over and attached it to the cowl beside the windshield wiper. If you do this, make sure the wiper doesn't hit the gauge if it starts raining.
And you're done! My truck is holding a steady 70 PSI at idle which is in the right range, tomorrow I should have the horse trailer hooked up and see what it does under a load.