I had a Thatcher with my 455s that I hadn't sold. I came across a post on the MTF forum where another Minnesotan was a building a Quick Hitch Mount for the Thatcher, which would allow me to mount it on my 1025Rs. He markets them on eBay, but I reached out to him via the MTF forum PM and purchased direct last February. My intent was to use the Thatcher more for over seeding prep, than for de-thatching.
I removed the 455 mounting hardware and replaced it with the mount from D & L Creative Concepts (
[email protected]
). I adjusted the mount so both rows of tangs evenly contacted the shop floor. I then removed the setscrew that secures the height control bushing to the wheel pivot shaft. I applied anti-seize to threads to prevent it from corroding in place. With the setscrew and height control bushing loose, I positioned a piece of 1/2' plywood under each wheel and secured the setscrews. This will allow the tangs to rip the top 1/2" of the soil, preparing a seed bed.
In the past, I've utilized the tiller to prep for seed, but if the grade is already established, it makes for a lot of work getting it raked back into place. Also, as I'm working on a slope, the tiller loosens it to the point whereas washouts can become an issue in a hard rain. I've also utilized my aerator, but that is the other extreme whereas it doesn't loosen the soil enough.
My first step was to spread the seed, before I did any prep. In this manner, as I run the Thatcher through the soil, it rakes the seed in at the same time. Below is a photo of an area to be seeded with just a single pass through it. I'm very pleased with how the Thatcher is loosening the top soil. I ran the Quick Hitch in the float mode and the restriction of displacing fluid from the cylinder seems to be just the right amount of down pressure. So no other supplemental weight is required on the Thatcher.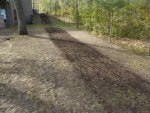 Once I had thoroughly "thatched" in the seed, I used the tractor to "roll" the soil, by driving over it a tire width at a time, for good soil contact with the seed.
I don't have much of a green thumb and would starve to death if I was a farmer, but I'll update how the germination progresses...or fails to.
Below are some additional photos of the Thatcher mounted on the 1025R. A potential drawback to the Quick Hitch mount is you cannot have a mower deck and the Quick Hitch mounted simultaneously, preventing dethatching and mowing simultaneously.