Discussion Starter
•
#1
•
This may be long. If you don't care about log splitters, or projects, you may as well skip to the next thread.
A while back there was a discussion on log splitters (horizontal vs vertical, PTO vs tractor hydraulics vs separate engine, etc.). I mentioned my splitter and how I would have to modify it to work with my new 2520, and one option was to use the tractor hydraulics. I have a Prince PTO hydraulic pump, and it is rated for 21 GPM. The general opinion was to keep the Prince pump.
Friday my big project was to modify the 3pt attachment points to work with my quick-hitch, and make a mount to hold the pump on the drawbar so all of its weight wasn't hanging off of the PTO shaft. The pump weighs 50 pounds (it is the cast iron version). I called my JD dealer, and they said I could use a PTO shaft extension as long as I tried to keep most of the weight from hanging on it, and made sure to have an anti-rotation device on the pump. I told them that was my plan, and they said I should be good to go.
First, some background on THE log splitter. Back in 1998 we put a wood stove in our house. The first year I rented a log splitter twice to split wood. As I have mentioned previously, whenever I rent something, it never works, and I always get the same excuse, "It was working fine when we rented it last week." Yeah, right. The other problem was when I would rent the splitter, I needed to make maximum use of it, so I'd rent it on a Saturday afternoon, and take it back Monday morning. Then I would basically spend 20 hours over the course of Saturday and Sunday splitting firewood. It was never a fun project.
The next year I told my wife we needed to get a splitter. Between rental costs, and the giant PITA it was, she agreed. Since I am cheap, I mean frugal, I found a splitter with a not-so-good-running Briggs 8HP engine. I figured I could rebuild the engine, or at some point put a different one on it. It was a small horizontal trailer splitter. I ended up getting it for around $300. This was known as "Version 1". It ran okay, but the governor linkage was missing, so you pretty much just used a piece of wire to hold the throttle open and hope for the best. The pump on it was the standard 11GPM dual-stage log splitter pump that every log splitter comes with.
After 2 years I got tired of the crappy engine and stuck a 4.5HP snow thrower engine on it. I figured the piece-o-junk 8HP was lucky to be putting out 4HP, so a 4.5HP engine should be fine. The splitter ran, but was a little slow. I didn't care because at least it was running, and I wasn't in any big hurry. This was known as "Version 2". While it did start and run for the most part, the fact it was slower than V1 when I first brought it home, always bothered me.
There are no photos of V1 or V2.
It was at this point I came up with the bright idea of a self-powered, self-propelled log splitter. I figured how much trouble would it be to connect the splitter pump to a lawn tractor PTO, and mount the splitter on the tractor. Low and behold, on old Simplicity/Allis-Chalmers B10 and B110 lawn tractors, there was a front PTO shaft that was in the perfect spot to make a bracket to connect to the splitter pump. The PTO shaft was mounted to the front flywheel, and stuck right out the front center of the tractor grill. And also amazingly, there was a 1969 B110 for sale up the road from me for $200 (cheaper than a new engine for the splitter). The B110 had a 10HP Briggs engine in it. This was 2 more HP than V1, so how could I go wrong? It was also at this point that I would come to realize Briggs engines hate me.
So I hauled the B110 home and by another amazing stroke of luck, all that was needed was to drill two 1/2" holes in the tractor frame just below the floorboards to mount the splitter frame I fabbed up. There were enough holes on the rest of the frame to make use of existing holes! Once I had the project completed and bolted on, it almost looked like a factory attachment. This came to be known as "Version 3". I believe I have photos of this version, but haven't been able to find them. I'll keep looking, and post them here if I do.
V3 was great! Turn the key (electric start, V1 and V2 were pull-start), put her in gear, drive to the log pile, and START SPLITTING! NICE!! After about 2 years of use, I noticed the engine didn't like to idle, and for it to run I'd have to keep putting more choke on. Oh well, if it ran for an hour at a time that was enough for me to split a good sized pile and then stack it while the engine decided to get ready to start again. It was also around this time that THE splitter was starting to show its age. The pump was leaking, and it wasn't developing full pressure.
Somewhere around 2006 or 2007 I had to face the fact that a new cylinder was needed. I pulled the old one off and a piece of the end cap had broken off and scored the cylinder. The local hydraulic place said the gouges were too deep to clean up, so the cylinder was toast. No big deal on the cylinder, Northern has tons for sale and I found a 4"x24" for $190. It would mean some more fab work, but I enjoy projects. The old cylinder had a flange on the front that bolted to a flange on the splitter I-beam. The new cylinder had no such flange (and the only source I ever found for such a cylinder was a Troy-Bilt splitter and the cylinder was over $400). This meant I would need to weld a new 30" long piece of I-beam to the existing one and weld a mount to the end of it to connect the cylinder to. I found some I-beam at the scrap yard for about $10, and had enough junk laying around to make the rest of it.
When building this, the local hydraulics guy suggested putting a pressure gauge in the system, as well as a filter to help prevent the cylinder from getting worn out as fast. It added about $150 to the project, but in the end I thought it was worth it. This version was known as "Version 4". By this point, I was referring to THE splitter by version numbers, and it became a running joke where I worked.
V4 was very nice. Excellent action on the cylinder, and I could monitor the pressure. By now the old Briggs was really making me mad, to put it mildly. It was also readily apparent that the stock 11 GPM pump was nearing the end of its life. It would go into bypass on anything other than smooth-grained logs, and it would never develop over 1100 PSI no matter what. The fact the Briggs engine wouldn't run for crap was also making me mad. I decided I would try rebuilding the engine. This turned out to be a waste of time and I hate Briggs engines!!!! That is a story for another time.
So now I had a decision to make, I needed a new pump, the Briggs was about dead, and I had a perfectly fine 25HP 40U farm tractor in my shed. Do I modify THE splitter yet again, or look for a new engine and pump for the B110? Well, my decision was made easier by a little thing called eBay, and Prince pump rated at almost twice the GPM of the stock splitter pump. Yes, "Version 5" was now in the works. It wasn't too bad, since the basic splitter frame was just one long piece of I-beam (well two pieces that I welded together). The brackets to mount it to the B110 were just bolted on (I was very proud of my engineering skills on V3). I ended up building two sets of 3pt mounts for V5. Why two sets you ask? Well if you neglect to actually measure if the splitter ram will fit where you think it will, you may also have the pleasure of doing twice the work. :lol: Sadly, the 3pt mounts were welded on, so there was no unbolting and moving. By this point in the summer I was in a hurry to split firewood, so I just left the entire old mount in place and welded on a second set about 12" farther back. It serves as a reminder to me to make sure my grand plans will fit before starting the process of permanently attaching metal together.
Now jump ahead to this spring. I sold the 40U and bought the 2520. There was no way the 3pt mount i had would work with the 2520, and the PTO shaft was too short. The pump is rather large, and there isn't enough room to put it on the stock PTO shaft down in between all of the 3pt linkages. So, Friday was the creation of "Version 6"! So finally after about 13 years, and 6 different versions, I think this version is the best of them all. It is easy to hook up, the pump is very stable (and not having all its weight on the PTO shaft, and the 2520 has more than enough power to run it. In fact, I could get the 40U to lug down when going through knotty logs. The 2520 and its diesel engine never even slow down, no matter what I put on it. The funny thing is, all that remains from V1 is a 3' section of I-beam, and the control valve.
Here is THE splitter mounted up this afternoon: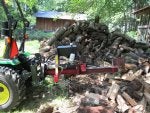 Here is a view of the pump mounting:
Another view of the pump mounting:
The pins for the quick-hitch. I had some appropriately sized thick-walled tubing laying around, so instead of using the Cat1 pins and adapters, I just used the tubing. It was free.
If I find the photos of the other version, I'll post them later. V3 and V4 are pretty neat looking. V5 looks about the same as V6.