Discussion Starter
•
#1
•
Thank you in advance to all who reply.
I have a 48" John Deere Category 0 (2,000 RPM) tiller which I would like to sell and would like to set a reasonable price when I list it in the for-sale forum. I have not been able to find any recent sales of this or similar tillers.
Model: M02902X
Serial: 537621
It works with Deere 318/420/430, maybe others (316/317?) or with other brands with 2,000 RPM PTO and Category 0 3-point.
The tiller is in very good condition, and complete. There is very little wear on the tines, I am the second owner and like other implements not for lawn care or snow removal, saw very little use. I have attached a few pictures to help.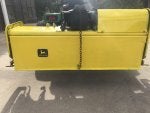 I also have a 2,000 RPM PTO (from my 430) which I would like to remove and sell. They appear to sell for over $1,000 on eBay, reasonable?
Reason for selling
; I purchased a 2025r. I had originally planned to sell the 430 and attachments as a package, but realized it is worth more to me than it's current market value as a smaller tractor for mowing under trees.
The tiller and PTO are located in southern Wisconsin if market location makes a difference in market value.
Thank you!