Anyone have any thoughts or experience with these two tires in the larger 5-6 series utility tractor tire sizes.
I have some experience with both in the smaller 1-2-3R series tractor's tire sizes.
All has been extremely positive, which is why I am looking to do the same on my 5115M.
I am virtually positive the R1 ag tires are going to be to aggressive/destructive for my purposes. Looking at the best compromise with one of these new hybrid radial tire designs.
Looking at swapping out the R1 Michelin Ag tires that came on my 5115M, for some of these new Hybrid ag/turf radial tires. Both Goodyear and Galaxy offer them that would suit my needs.
I am also planning to drop my rear wheel size from 34s to 30s.
I am keeping the lead lag ratios in mind. Also studied several factory combinations and comparing all the different front and rear diameter ratios in those optional combinations. To result in the below combo choices I a have come up with.
I am wanting a little shorter and little wider tire then stock, with more tire less rim on the rear which will be filled with liquid ballast.
Stock rear Tire Size is 420/85R34 = 62" x17" on 34" Rims
Stock front Tire Size is 13.6R24 = 47.6" x 13.6" on 24" Rims
In the R14T
I am looking rear tire size 460/85R30 = 60.5 x 19.1 on new 30" Rims.
I am looking at front tire size 340/85/24 = 46.8 x 14.2 on a existing 24" Rims.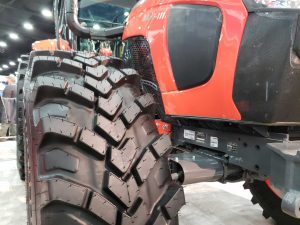 In the Galaxy Garden pro3
I am looking at a rear tire size of 480/70/30 = 58.2 x 19 on new 30" Rims
I am looking at a front tire size of 380/70/24 = 45 x 15 on existing 24" Rims.