I have some digging to do out of the side of a hill and some regrading to do around the addition on my shop so a tooth bar was in order. I thought I would share how simple this is, even for a carpenter.
I bought some 4" x 3/8" strap cut to length with a little bit of play plus the two side mount lugs cut to 8". I was going to use some scrap I had kicking around but this was easier.
I ground off a little bit of an angle to fit a little better on the shanks that I bought.
I cut an angle on the mounting lugs to fit the bucket, drilled the mounting holes into the lugs, then jigged them up to tack together.
Cleaned up all the weld areas and tacked the shanks on in place on the bucket.
Welded up the sides of the shanks, took the bar off to weld the undersides and top end of the shanks. This maxed out my Millermatic 180 for sure, tripped the breaker a few times. When I put it back on I had to ream out the mounting holes a little because of it moving a lot from the welding heat.
Slipped on the points (teeth) and drove in the pins that hold them on and voila, one tooth bar.
Out for a quick test dig. I love this tool, it digs so good in the ground I have.
And this is a shot of the 1026R bucket smiling and showing her teeth after a good dig.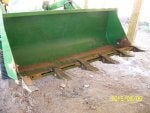 Shanks, points, and pins about $255.00 plus the steel at about $55.00 plus welding wire. Just over $300.00 all in. The local farm store wanted $800.00 to have one built, my JD dealer didn't think it was possible because he didn't see teeth as a part for the 1026R on the computer, (if they can't see it on the screen it doesn't exist).