Discussion Starter
•
#1
•
I decided to start a thread on mesh gates for trailers..
Gonna show what I have/had in the past for others to go off of if you want to build one and what to think about.
First Ill start with my 16' trailer.. Gate is 3' long and built with 1 1/2" tubing.. Not sure what gauge but its on the light side. With what I knew I was gonna haul, and it being 3', I didnt think I needed anything heavy duty.. I placed the two close runners where my tires run with my tractors/mowers, so I have supports under the mesh.. I have run my 2520 with loaded rears and my 5' KK tiller on the back and no issues..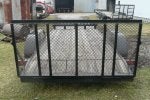 Second trailer is my 20'er.. I wanted it built heavier, so its 4' and made from 2' tubing that I would guess is 1/8"??? I ordered this trailer from a manufacture, I did have them place one runner where I wanted it, but I had little say in the rest of the build.. I have run my 3500 roller up it a few times, and even loaded a 1996 F250 4x4 with 7.3 and no bends.. I will say the mesh in the small squares are pushed in...
Next is my old gooseneck trailer that I built the gate too.. It was 5' and 2" tubing like the 20'er.. Wasnt the most attractive design but done the job.. I had this built at a shop and I think they used lighter tubing then what I wanted... When I got rid of the trailer, there was a slight bow in the gates.. I could see it, but others couldnt..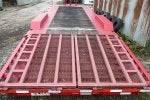 Now for my current gooseneck, once again its 5' and 2" tubing.. Each gate is 28" wide. I know its 1/8" think tubing and very strong.. I have the runners placed where my tires run. Being a split gate, I think that strengthens it too. Works great and Im not afraid to drive anything up them that the trailer itself will handle.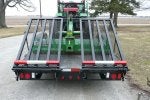 Now for Casper's gate that I just finished. 5' long and 2" tubing but lighter weight tubes.. Each gate is 36" wide. I wanted it as lightweight as possible but strong enough for my tractors/mowers. Cars and trucks I doubt I will use the gates, just take them off and use the pull out ramps.. It should hold a car just fine.. I went a different route and put a cross bar in to make the inside runners shorter, which I think makes the gate stronger.. From the inside out, runner 2 is where my tractors run, and runner 3 is where my zero turns run..
Feel free to post up yours, or ask any questions for me or others to answer. This is a open thread for anyone.. :bigthumb: