Discussion Starter
•
#1
•
After 3 years, I'm finally the owner of a trailer capable of handling my tractor. :yahoo:
Now the question is how to best secure everything?
When I hauled the tractor home on the skidsteer trailer, there wasn't enough room for the bucket and I had to "collapse" things down a bit to get the weight right.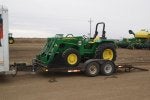 Using chain binders, things moved enough that I probably wrecked at least one chain from rubbing on the bucket after 420 miles (it just wouldn't stay tight enough).
So now I'm using my own equipment and I'm contemplating how I should lash things down. I like nylon straps and ratchets because they're easier on paint, lighter, and tend to be easier in general. Chains seem more durable over all.
Here's the trailer I got (mine's a lot rustier):
And here she is as of 10 mins ago :banghead: (yes, it's snowing :nunu: ) :
The "posts" sticking up mid-deck are where the tilt deck latches are. This is a 1999 trailer and they've changed things since it was built. There's a steel diamond tread plate in front of that (which is Swiss cheesed from rust and needs replacing) with 4 D-rings on the frame rails (frame is SOLID and only has minor surface rust anywhere) beside it, and then there's a storage cubby in front of that (which is also in need of new sheet metal). I got a bag of new LED lights and reflectors, and a pair of new fenders with it. The trailer was inspected in July of last year, when it had new brakes put in. Tires are in good shape, but I didn't look at the Mfg dates. New brake battery as well (brakes were tested and work great). Not too shabby for $2600. :cheers: :gizmo: