Discussion Starter
•
#1
•
I have a New Holland 906 PHD that I impulse purchased several years ago,,,
the PHD was new, the paint is still on the auger teeth.
Well, we went to assemble it, everything was going good,, then,,,
the auger has
two
grade 5, 1/2X3 bolts to hold it on the gearbox.
My Ford PHD has a single, simple grade 0 shear pin, I believe it is 1/2"
I have only sheared that pin a half dozen times in drilling hundreds of post holes.
A funny note,, on the boom the PHD has a sticker that specifies 1/4" X 2.50" grade 5 as the shear bolt.
It even shows a grade 8 bolt head, and says DO NOT use grade 8
The PHD came with the 1/2" grade 5 bolts, they are even painted the same gray color as the auger,,,
so I think the 1/2" bolts came from New Holland.
I really want that bolt to be able to shear,, we have LOTS of rocks,,,,
and they are JUST the right size to catch and hold the auger.:flag_of_truce:
I kinda doubt that NH would use two 1/2" bolts,, just for shipping purposes,,,
I am thinking about switching to a single 1/2" grade 0 bolt.
What do you think!!?? :dunno:
The bolts are Item 2,, they show the washer (Item 4) but, they do not show the nut,,,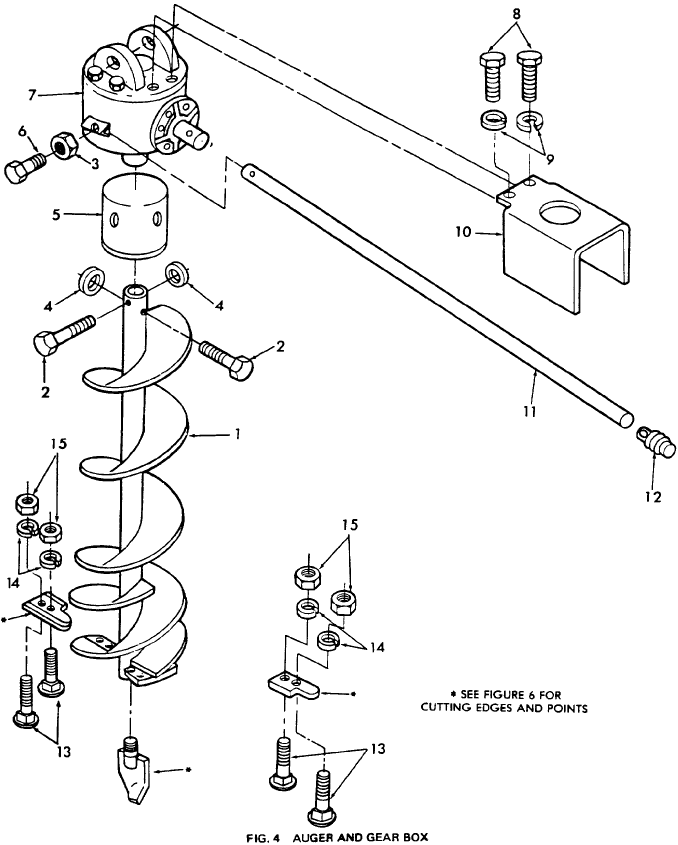 The parts breakdown for the bolt simply says,,,
"Procure Locally"