Discussion Starter
•
#1
•
I drained my MFWD fluid recently when I did my 50 hour service. On top of each of the axle wheel hub housings there is what the owner's manual says is a "vent plug". What it is...is an Allen head screw used to plug a hole that is used to vent off the trapped air as I refilled the axle with fluid. The Allen head was rounded off...I got it out with an easy out. (I had to remove this to release any trapped air in the MFWD).
It is and Allen head screw size 4mm, fine thread?. Can anyone help me find the part number for this "vent plug" Allen head screw? :unknown: :banghead:
Here is a picture of what I am talking about that may help. It is the little shiny silver spot just to the left of the tire.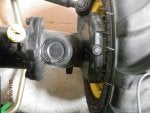 (I may have to just take the part with me when I go to the dealer next time).