Ok so I wasn't sure what to put on the title. Wasn't even sure if this is the right thread to put this on. If it's wrong I'll leave it up to the right people to put it in the right place.
Today I picked up my wagon I've been wanting for quite some time. The funds were available so I pulled the trigger, with my wife's blessing of 'course. I could have gone with a trailer version but I wanted a wagon. I don't know why except I just like wagons and wanted no tongue weight and be able to hook up without picking up the whole trailer weight if it's loaded. Also like the idea of the bed being flat when it's not hooked up to the tractor. I also like 4 wheels with the wheels being at the 4 corners and not the middle of the trailer. Yes it will be harder to back up but that's the way I learned when I was a kid so hopefully it will be like riding a bicycle, it'll all come back to me. Didn't ride a bicycle till I was around 10 years old so...who knows. I'll try to take pic as I go along with this build. To start with it looked like this after it was loaded on my pick-up.
5 straps in total to hold it in place. Worked, nothing moved.
Packed in pretty good. After I removed the lid. Nothing moved from the trip from Ohio to Knoxville and then to my home.
After I removed the boards which are my sides and end pieces.
Removed the wheels and the small box. Tire on the right shows how wide the tires are. Tire size is 16x6.50-8 2ply. max pressure = 14lbs. Had to remove some pressure as they had 30lbs in them, for shipping I'd say. I left them at 17lbs.
The box items. It's the hand operated hyd. pump to dump the bed and all that goes with it.
Started to take things out of the main box. That's the inner frame leaning against the tailgate. The front and rear piece attach to it.
The dump pieces. Had to take it out to see what I had so I could figure out where to start first. Read the instructions 3 times by now. 1 set for the wagon and 1 for the hyd. dump. Not only had to see where to start but also which side goes up on the inner frame.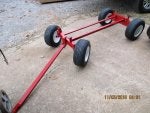 So far things are going together good. I'm greasing and lubing as I go along. Looks pretty good!
Got the hand pump attached and seeing as it was supper time I thought I'd stop here for today and put everything away. My stomach is still talking to me from this morning. My thoughts so far are that this wagon is built heavy and it is heavy. It makes all the trailers I've looked at seem cheap. The only thing I'm not pleased with is the 2ply tires. This is a 1 ton wagon and even though the 2000 lbs. if I get that much on it is spread out to the 4 corners, that's 500 lbs. each. The axles are ¾". The most trouble I had so far is the grease tube I had to replace when I ran out of grease. That's the one thing my wife noticed, grease on my shorts. I have faith in her to get it out. Think she uses mean green and pre-soaks before washing. It was a nice day today so I wore shorts and sandals. It should all come together tomorrow. :yahoo: