I'm posting this to show other members what's involved in properly welding some hooks to your bucket. The procedure is the same for most projects.
We'll need to gather some stuff before starting this little project. You'll need your welder, I'm using a MIG welder, but a stick or TIG machine would work here too. Some safety gear is needed such as a fire extinguisher :fire: and some good welding leathers, hood, and welding gloves. I don't need to mention the miscellaneous hand tools you'll want. Then you'll need to find a cold beer...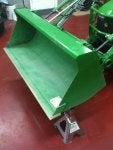 First, let's get the bucket at a comfortable working height. Make sure to block it up to prevent it falling down during your work.
Let's decide where to put our hooks.
A little layout is in order. I drew out center lines and traced out the reinforcement plates I'm using.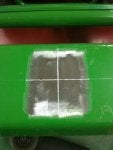 We need to clean off all off the paint where the plates and welds will be. I used a flap wheel on a grinder. Then redraw your center lines to help re-alignment of the plates.
While the grinder is out, make sure to clean off a spot for your ground clamp!
Here's our ground clamp.
Tack the reinforcement plates where you want them. Thanks goes to Kenny for supplying these plates:drinks:
I plug welded all of the bolt holes for a stronger bond directly below the hook.
We need to level the welds to the top of the plate.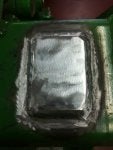 Perimeter weld the plates. Don't do it all at once on a plate. Weld a bead on one plate, go to a different plate and weld a bead and so forth. This will allow the metal to cool and minimize any warping of your bucket. That's right warping. Anytime you weld any metal, it shrinks when you weld it. More on this later.
Close up of one of the perimeter welds.
Let's weld on the hooks. We need to grind or sand off the bottom of the hooks where the weld will be first. This gets rid of any crap that can contaminate your weld. Remember to tack first. This way you can check it's alignment before you make it permanent.
You'll notice a lot of grinding marks after welding the hooks and plates. My welding wire is over 3 years old and was exposed to high levels of humidity. I'm almost out and was being too cheap to go ahead and replace it. The quality of your welding supplies has a huge effect on the quality of your welds. This is a great example, I had a lot of spatter, hence all the grinding for clean-up. I had a good welder friend who told me once that he's never met a weld a grinder couldn't fix.:lol: He would also tell you that your boss pays you to weld, not grind.:laugh:
Continued....