Discussion Starter
•
#1
•
A new to us addition arrived today courtesy of CL. It's a Kubota M6800- not the "wish" tractor for sure as it's shy a few horses and only 2wd but with the price we paid it may have to be good enough. So far, there doesn't seem to be much wrong with it although the starter cranks it slower than I would like. That may be the battery cables, ground or something similar. Fortunately, it seems to start with less than one full revolution so maybe that's just the way it is.
Hopefully it will do what we need, if not we probably can get our money back selling it again. The bucket on the loader has almost no wear so as we switch to a skid steer mount, that bucket may be for sale. It's fine except the pin on brackets are continuous welded to the loader and it would be a lot of grinding to switch to skid steer mounts.
Here it is on the previous owner's trailer. There wasn't an inch to spare.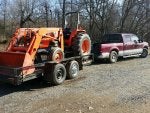 Treefarmer