Discussion Starter
•
#1
•
Except for overheating problem the JD 2440 was running fine when we recently purchased it. Got that and a few minor issues resolved and started routine maintenance, new coolant, oil and filter change, air filter change, then started drain and replace of hydraulic fluid. And that is when the bottom dropped out of the bucket..figuratively speaking. First thing we found was there was way too much fluid in the tractor...about 20 gallons instead of the expected 10 gallons!! Here is a picture of one of the 5 gallon buckets.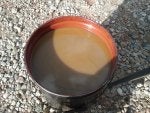 Then we pulled the hydraulic filter...notice the collapsed inner metal screen..!!
Then we pulled the transmission screen. It was almost completely blocked by that gooey mess...some of which looked like grass.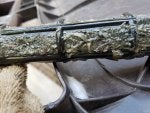 As the screen dried in the open air, the mess gradually turned darker but doesn't appear to contain any particles of anything other than dirt.
We used a magnet in the last bucket of fluid and found a few particles of metal. We did not see any other particles in the earlier drained fluid as we transferred the catch basin to a bucket. The cowling pins in the photo were there just to weigh down the towel for the photo.
We hope the distorted filter is just a result of the clogged screen. Could it also be the result of a bad pressure relief valve?
We are nervously awaiting some words of relief. Thanks in advance.