Discussion Starter
•
#1
•
I've got a real mess around my place - honeysuckle and fallen trees. The trees are mainly due to the Emerald Ash Borer destruction. I'm trying to figure out what I can do with equipment that I either own or that my 3520 can power. Or, should I just hire someone with a Fecon Head (aka Forestry Mulcher) on a skid steer to make short work of it.
I'd be interested to hear from you guys with flail mowers to see what kind of stuff you have or can cut with your mowers? I've done some reading on the subject here and on that other tractor forum, but I really haven't seen anyone that's dealt with the kind of stuff I have here. Just to give you an idea, here's a couple of pictures....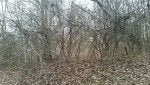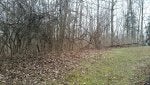 The honeysuckle ranges anywhere from pencil thick to several inches. I'd be interested in being able to mow down anything up to about 2" - 2.5" with the flail. Is that doable?
I don't mind going slow, as long as it would cut it. And, I have no illusions that the flail mower would cut/grind up the fallen tree in the second picture. I have a chipper for stuff like that. And I have a tree puller to pull out the bigger honeysuckle. I'm looking at clearing about 2.5 acres initially.
I had a forestry mulcher guy out here yesterday. He's thinking that what I want done right now (but still more in the future) would be a two day project. We're looking at roughly $2100 per day for an operator and the equipment - $4200 plus sales tax total. Or, I found an operable Deere 25-A flail mower for $900 at a dealer in NW OH.
Appreciate any input. :good2: