After seeing the post on that Anvil I looked up the one my Daughter bought for $100.00 and she got a killer deal on it! It is a 125 lb M2066 CENTAUR BURLINGTON #56 Anvil made in Sweden. Guess they can go for over $650.00 and up! She picked up a large old Forge with a Hand operated Blower at the same place I better look that one up too.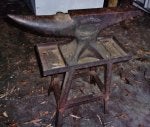 Might need to chain this down since it just sits in my open shop? This is a write up on one;
125 pound Centaur farrier anvil from Sweden. This company is known for their best quality cast iron anvils and this was one of their best selling farrier anvils. The Swedish anvils are known for top quality steel and defect-free anvils. The Centaur company had high standards and this is one of the best with top rated rebound etc. Condition is excellent on this anvil. Dimensions are 28 inches from horn to heel (total top length). Horn is 11.5 inches. Table is 3x17 11 inches tall. 11 x 9 inch base. Includes a chisel for hardie hole the top of chisel is 2 inches.