Discussion Starter
•
#1
•
Recently I picked up a 2004 X485. Came with the 54C deck.The deck is pretty ratty so I was looking at my 60" mulch compatible from my445. I have 5 large willow trees and the spindles on the 60" will hold up tothe abuse of hitting some branches. (Occasional root) So I checked the PTOcoupler. No problem, same. The 54C uses a bolt for the rear draft arms and theyare open in the back. The 60" uses the spring U bolt set up. So I swapped thoseover and thought I was all set. But no. When I slid the 60" deck under theX485, the front support is not long enough to catch the deck. Around 2 or 3inches short. Both tractors front hangers are the same length. (Differentshape)
So not willing to throw the towel in just yet, I thought Iwould ask if anyone had done anything like this? My thoughts head towardsswapping the rear draft arms between tractors. But…..if they are mounted in adifferent spot, that wont help.
When my kneecaps recover tomorrow, I will take somemeasurements to see if they are different or what exactly is going on.
So much for a quick fix!
Thanks
Randy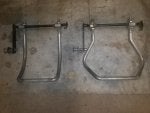 X485 Left 445 Right
X485 with 60"
My stump grinder
The herd just grazing.