Discussion Starter
•
#1
•
I picked up a used X495 with 650ish hours. I noticed it was scalping spots and cutting very low when at the same setting as the X300 series I used to have. On inspection, I found that:
The deck did indeed measure lower than it should
The deck wasn't level, with the left side lower than the the right
The left side eyebolt (18 in the diagram) was welded to the yoke (16)
Threads on the right-side eyebolt were pretty banged up though working
Both were at or close to the upper-most end of the threads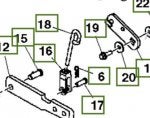 Left side:
Right Side:
Obviously to level this deck and to increase the height I need to replace the welded on. But with them at the top of the adjustment I don't think there's enough adjustment left to fix my problem.
So my questions are:
What caused the damage?
Why would these be at the end of their adjustment range with the deck still low?
Do you think it'd work to thread both eyebolts (once I get a new one of course) further to give more adjustment?
I look forward to your wisdom!