Discussion Starter
•
#1
•
A member suggested that we have a "what was your first tractor?" idea. (Thanks Levi!:drinks
I though we could combine this into a virtual tractor show here on GTT. :thumbup1gif:
Here's how it works. Post a picture of your first tractor,
no matter the color
. Don't have a pic? Borrow one from the internet. Make sure to tell us about it. It's history, the story behind it. Most importantly, do you still have it? Remember, this is a virtual tractor show. Videos are more than welcome.

You can also include pictures of your current tractors and ones you've previously owned.


Let's try to keep this close to on-topic please. Start a new thread in the appropriate forum if you want to discuss something further. This will keep the 'show' flowing with great tractor pics and great stories from the owners.
I'll start off here.
I inherited 2 tractors from my Grandpa Casey. He owned a farm in Oklahoma. When I moved from Alaska, I visited him. He had a bunch of tractors out in "the back 40." Something on the order of over 50 different tractors. :lol: I've always loved going to his farm and checking out his various inventions and contraptions. He was always brewing up another machine. During this visit, I discovered a John Deere model 60. It was a 1954 model that was un-molested and looked to be complete. When I asked him about it, he said it was his favorite tractor he's ever owned. It was reliable and economical to run. He said the transmission locked up in two gears at once when he last used it. He tried unsuccessfully to repair it, but failed. He even hired a mechanic to fix the transmission. The mechanic broke off the shifter forks with a pry bar. So there it sat. I told him I'd like to buy it from him. I had no home, no land, and no plan, but I knew I had to have it. I asked him when he was done with it, I'd like to buy it from him. A few months later he called and said to come get it. Here it was in all it's glory. It hadn't moved in many years and the transmission shifter tower was removed and left open and exposed that whole time. I purchased it from him for the lump sum of $1.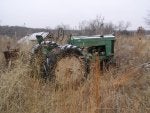 I'm currently doing a custom restoration of this tractor. I had hoped to get it done and give it back to him. Unfortunately he passed not too long ago. Pictures of this tractor going through major repairs brought big smiles to him in his last months.
It's not a show piece, and never will be. It will be a really nice tractor that will be able to go be used. Here is what I hope it turns out like.
You can follow along on the restoration here
.
During the same visit, he made me take. He said it was part of the deal. :lol: It's a Chinese tractor that truly introduced me to the versatility of owning a compact tractor.
It was a piece of junk on the best days. When I could get it to run, it actually worked fairly well. I owned it for two years and did various jobs with a box blade. This tractor led me to getting a newer, much more versatile 1 series tractor when JD first introduced them.
Now let's see your first tractor!