·
Chief Stick-picker-upper
Discussion Starter
•
#1
•
My Zero Turn, EZTrak Z445 is nearing 9 years of service. I've done yearly cleaning on the 54" deck, which consisted of the underside as well. Because of the high humidity and almost year-round wet ground conditions, the grass is seldom dry. That is, unless we experience drought conditions, which is also very seldom. To keep the grass at bay, I mow it as often as I can, sometimes once, or twice a week. I mow with a mulching lit year-round
(I hate raking leaves and grass clippings)
. This year the deck needed extra attention, so after mowing very wet grass this week, I washed the Z and removed the deck. As you can see in the photo below, the left edge of the deck is well worn from mowing along the driveway and sidewalks.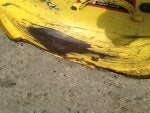 On my previously owned Z-737, the 7-IRON deck had a rolled steel edging. With this in mind, I decided to repair the residential deck with something similar. After dressing the worn edge with my side-grinder, I welded a piece of 1/2" rolled steel to fill-in the edge.

BEFORE

AFTER
Then came time to apply the Rust Converter. I started on the top side.
The original paint, at the locations of where the under-deck baffles and deck pulley mounts were welding into place, flaked away and rust began to form.
A closer look of one of the pulley mounts. Rust converter was applied to these areas.
After application.
After two hours, I turned the deck over and applied it to the under-side.
In this photo, the area that is covered by the mulching-kit baffles are in very good condition.
In this photo, I temporarily placed the mulching baffles in it's location to show what it looks like when installed.
A closer look of the area between the blade spindles
(converter applied)
.
After 9 years of use, the mulching baffles have seen there share of abuse.
Red arrows
show where it has worn through. These baffles are hollow and were filled with dirt and fine grass clipping. I drilled two 1' holes on the top side of the baffles to be able to wash them out. Once the inside is completely cleaned and dried out, I'll fill them with expandable foam to prevent debris intrusion.
(photos of that later)
. Hopefully after that, the baffles will last a few more years.
This is as far as I got for today.
To be continued.